Winter Classes
Bbbrrrrrrr!!!!! It's getting cold here in Rhode Island!  
No worries! We can still have some SCUBA fun!  
We have an assortment of classes that run over the winter time to improve on skills, or enhance your knowledge about diving or the undersea world.  Or if you're particularly crazy about SCUBA there are a bunch of us who dive year round using dry suits.  Take a dry suit class and extend your diving season to most of the year.    (Or do like some do, and go someplace warm in the winter to dive.... we can help with that also 🙂 )
Learn SCUBA in Paradise!
What? You want to do your open water dives now?!?! 🙂  Of course you can!
We have a great program that lets you take care of the educational & pool portion here at Dive On It Scuba and then finish up your open water dives in a much warmer location.
Spend more time diving or doing other activities on your vacation
Get the classroom & Pool sessions out of the way back home
Take your 4 Open Water Dives (across 2 days) at your resort in beautiful warm water!
Disadvantages:
Sometimes takes a little longer to finish
Costs a little more then completing entire class with Dive On It
The cost for our Winter Referral Class is $649
You'll need a SCUBA Quality Mask, Snorkel, Fins & Boots.

Available for purchase at the shop.

Core SCUBA Gear Rental included (BCD, Regulator, Tanks, Weights, etc)
Resort costs are not included in this price

We have partners in Key Largo, FL & Cozumel, MX
You can go to any PADI dive center or resort to finish

Special savings available if you purchase complete Dive Gear package from Dive On It.

Buy full core gear setup including dive computer and save
Financing available with 6mo reduced interest promotion
Contact the shop for more details or Click HERE or the Finish in Paradise Picture to go to our online store to sign up!
Re-Activate Your Skills!
Getting ready to go on vacation but haven't dove in a while?
Re-Activate your skills with one of our instructors!   A brief online learning segment helps restore some dive theory in your head, and a pool session with one of our instructors or divemasters will help you restore your dive skills before your holiday!
Click the Re-Activate Image to your right (or below on mobile devices) to find out more about refreshing your skills.
Dry Suit Diver
Want to extend your dive season into the colder months?  Or perhaps just want the convenience of staying dry during your dive?   Consider taking the PADI Dry Suit Diver class with us!
This course includes the following:
Classroom Session

1 Evening or weekend session
Learn how to care for and maintain your suit
Safety considerations when diving dry. 

Pool Session

Safety review
Skill practice
Buoyancy control

Open Water Dives

2 Dives in Jamestown in Open Water
Review safety & skills
get comfortable & warm diving dry!
The class does NOT include any gear rental, nor drysuit rental.  We will however provide air fills or tank rentals as needed for the pool & open water dives.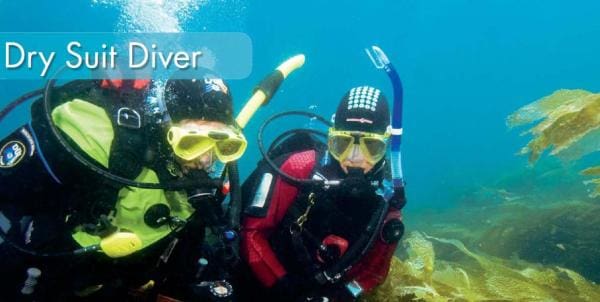 Equipment Specialist
Ever want to know more about how your SCUBA gear actually works?  Well the PADI Equipment Specialist Class is for you!  
You'll learn about routine care and maintenance procedures as well as scuba equipment storage recommendations. Your instructor will show you how to overcome some common equipment problems and offer equipment configuration suggestions.
This class generally utilizes the Equipment Specialist Touch app that's available on most tablets.   It's a great interactive application to guide you thru how various bits of gear work.  
In addition to the tablet app, there will be a classroom session to let you have some hands-on sessions with an instructor & various types of gear.  
Please note, this is NOT a service class.  You will not learn how to do internal repairs of regulators, computers, BC's etc.  This is merely an enhanced education class that gives you, the diver, more knowledge on how your equipment works and how to solve common problems.  
If you do not have a tablet or home computer to take the e-learning portion of this class please let us know.  As an alternative you can purchase a copy of PADI's Encyclopedia of Recreational Diving from us and have an alternative classroom session.  
Contact the shop for details on how to get started right away!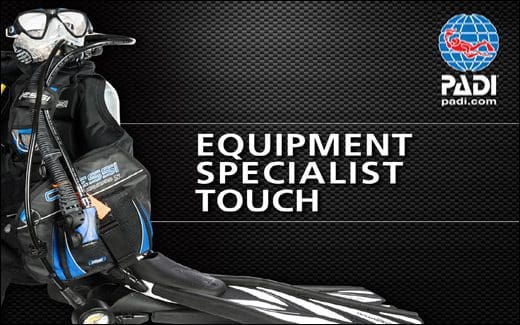 Enriched Air NITROX
Want to spend more time underwater?   You can reduce your no-decompression limits by diving with Enriched Air NITROX.  
You'll learn why diving with air that has higher oxygen and lower nitrogen content gives you more bottom time, along with enriched air equipment considerations. During a practical classroom session, you'll cover:
Managing oxygen exposure.
Practice analyzing oxygen content in your scuba tank.
Set your dive computer for diving with enriched air nitrox.
Safety regarding diving with Enriched Air NITROX
Enriched Air NITROX Exam
This class is a great winter class, as it only needs a single evening or afternoon to complete.  Also, there are no required Open Water dives for this class.   All students who complete their Enriched Air NITROX specialty with us receive their first NITROX tank fill (or rental of stock Nitrox AL80) on the house!
This is probably the most popular specialty class we offer, therefore it generally runs several times per year.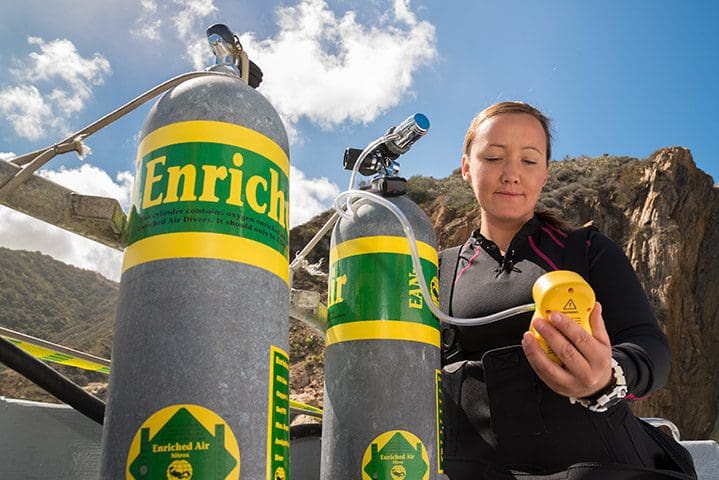 Project AWARE
Project AWARE's philosophy is to mobilize a global force of scuba divers and water enthusiasts who care about protecting the world's water resources and choose to make a difference – one dive at a time. By earning the Project AWARE Specialist certification, you'll be aware of the most pressing problems facing vulnerable aquatic environments and know what everyday actions you can take to help protect them.
Anyone who has an interest in the aquatic world should take this course. There are no prerequisites, age restrictions or water sessions required for this non-diving specialty.
What will you learn?
Through classroom discussions, you learn:
How Project AWARE unites scuba divers and water enthusiasts to make a difference.
About environmental issues in the ocean commons and coastal zones.
About fisheries challenges and sustainability problems.
What's happening to coral reefs and reef inhabitants.
Your role in protecting aquatic environments.