Learn how to SCUBA Dive with Dive On It Scuba.  (say that real fast 🙂 ) We offer nearly the entire range of PADI classes and can get you started on your fun journey beneath the sea.  Not quite sure if you want to do this?  Begin with a "Discover SCUBA" lesson you can get a brief taste of what it's like to breathe underwater in our pool using high quality Aqua Lung Dive Gear!
If you know you're ready to get your full certification, our "Open Water SCUBA Diver" classes run at least once a month (more often during peak season).
Our Discover SCUBA intro costs $60 per person, with $20 credited to your Open Water class if you sign up on your Discover Scuba day!
Our standard Open Water SCUBA Diver class costs $789* for a regular group class and Private lessons are also available.  Our regular pricing includes gear rental, open water dives and no surprise fees!  (* See below for Options)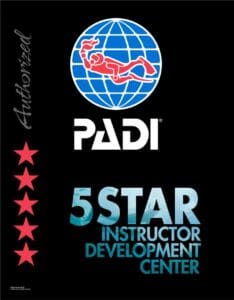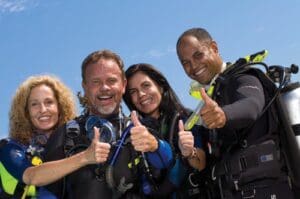 What do you need?
Are you ready to take the plunge and explore the other 70% of the Earth?   Great!  Stop in the shop, signup online, or give us a call at 401-333-0002 to inquire about class schedules and availability.
Once you're signed up within a business day you'll get access to your PADI online learning to get you going.  You'll then attend a couple classroom sessions to familiarize you with the basics of the gear, how to dive and get sized at the shop.   We'll also have pool sessions for you to learn and practice the necessary skills to becoming a safe & confident SCUBA Diver, plus a little bit of playtime to get comfortable.   Once you've completed the online, classroom & pool sessions you'll join one of our Award Winning PADI Scuba Instructors for your final Ocean Check-Out dives in Jamestown!
There is some personal gear you'll need to buy or have to get you started.   While we'll supply the necessary "life support" gear for you to take the class such as Buoyancy Compensator, Regulators, SCUBA Cylinders & weights, you will need to supply some "personal" items.  The Personal Items are a SCUBA quality diving Mask, Snorkel, Scuba rated open-boot Fins and Boots (for the SCUBA Fins).  We offer all of these items in our shop and can make sure you're properly sized and everything fits comfortably and properly (and looks good too! ).   If you already have some or all of these items, Great!  However, please keep in mind that non-SCUBA masks may leak or be uncomfortable at depth (many snorkeling masks are fine at the surface but don't hold up so well at 30+ feet), and we do require SCUBA pocket fins that utilize a bootie or boot.
Ready to get started?   Sign up Online for a class that fits your schedule.   We have 'weeknight' options that run Wednesday & Friday evenings (with Open Water Ocean dives on the weekends) and 'weekend' options that run Sunday morning's and afternoons.
Free Snorkel with Personal Gear Purchase! (upto $50 value!)
Buy your "Personal Dive Gear" items from us along with a class and get a free  Snorkel!  That's right, if you buy your new mask, fins & booties from us we'll let you choose one of several snorkel options for free!
Open Water Diver Course Options!
The below are requirements for the PADI Open Water Diver Certification! 
PADI Open Water Diver eLearning
2 Interactive sessions
2 Pool sessions

Sunday sessions have the interactives and pool on the same day
Weeknight sessions have interactives on Wednesday and pool on Friday

2 Checkout Dive sessions (2 dives per session)
Small class sizes
Must attend course sessions on specific assigned dates.
Includes "Core SCUBA Gear" rental for pool & open water dives
Includes eLearning, interactive sessions, Pool sessions & Open Water dives
Fees apply for changes/missed sessions or dives.
Fees may apply for additional session/pool/dive time if desired.
5% discount on Core Diving Gear purchased for 30 days after completing course.
All of the stuff with the Basic Open Water Bundle - PLUS . . .
Additional Open Water Dive
Tank of Nitrox

2 Additional PADI Certifications!

Enriched Air Diver w/ eLearning
Dive Against Debris Specialist
All of the stuff with the Basic Open Water Bundle - PLUS . . .
Additional Open Water Dive

2 Additional PADI Certifications!

Peak Performance Buoyancy Diver w/eLearning
Project AWARE Specialist
Complete your eLearning & confined water (pool) sessions with us
Finish your Open Water Dives at another shop someplace warm. 

Other shop fees are not included and are completely separate from ours..
SCHEDULE:
See our Calendar for class schedules.  We may not have all classes listed so if  you don't see one here, call the shop and ask.
The Final Big Test - Open Water Dives!
We do our Open Water Dives in Jamestown, RI at Fort Wetheril State Park.   When you enter the park, follow the signs saying 'SCUBA Area' to the left of the entrance.  Park in the lower parking lot next to the boat ramp.  There are restrooms available for your use.  Please bring water & snacks with you as you'll definitely want them after diving.
E-Learning
Our initial Open Water diver classes now utilize PADI's e-learning system!   Most of the academics can now be done from the comfort of your own home.  Within a business day of you signing up for one of our courses, we'll activate an appropriate PADI e-Learning class for you on PADI's website.   The e-Learning fee is included in our course costs, but ONLY if you don't buy it directly from PADI. 🙂
If you've already bought an e-Learning class directly from PADI reach out to us to ask about a possible credit or discount off our course.  Please note however, it often is less then what you may have paid PADI as we buy the eLearning credits from them in bulk.
Personal Dive Gear (Must be SCUBA Quality)

Required for all Students and not included in class pricing.

Mask
Fins (boot style SCUBA fins)
Boots or booties (protect  your feet from the environment and keep warm)
Snorkel
Hood  (a must-have except for the warmest of months)
Gloves  (always a good idea to protect your hands and keep you warm!)
CORE SCUBA Gear

Rental of these items is included in Open Water Class Pricing

Buoyancy Compensation Device (BCD)
Regulator  (1st, 2nd, Octopus, Console)
Dive Computer
Wetsuit (3mm shorty for the pool, 5 or 7mm full suit for the ocean dives)
Tank / SCUBA Cylinder
Weights
When you signup for one of our classes, we include PADI's e-Learning as part of it and it'll be assigned to you within a business day.
However, if you're not ready to sign-up for a full class just yet, or want to get started right away on the eLearning, you can use the link below to sign up.  Please keep in mind, that you do not get a 1-for-1 credit for PADI's cost, vs our package pricing.   Contact the shop for details.
Be sure if signing up directly to PADI vs having us assign to you that you select Dive On It Scuba, Cumberland RI, USA as your dive shop or additional fees may end up applying.