Holiday Gift Baskets
Having a hard time deciding on a gift for a Scuba Diver in your life?   We've got some great gift baskets assembled already for you to grab and go!  
Not only are they great, pre-wrapped gifts, but there's a bit of savings as well.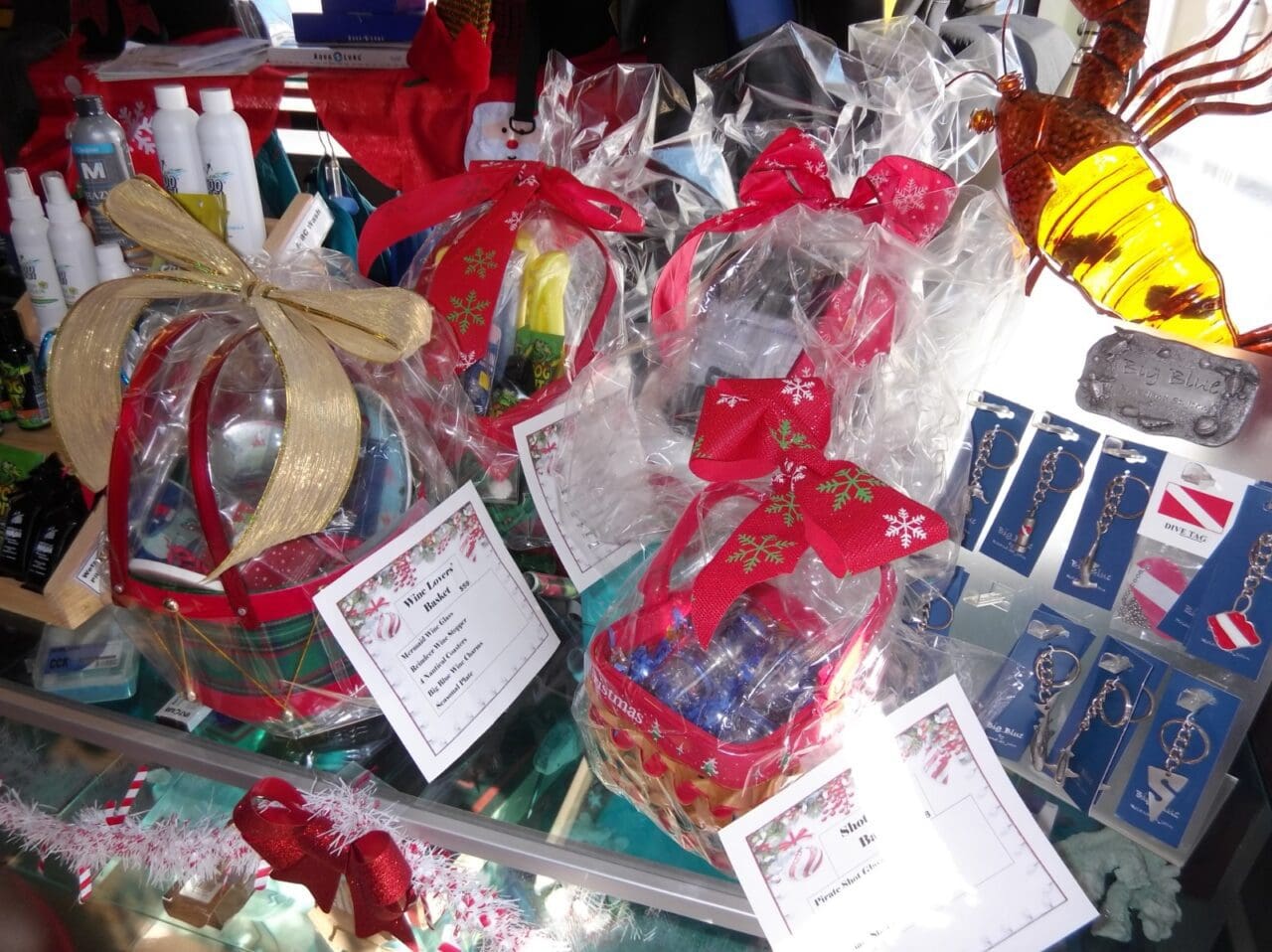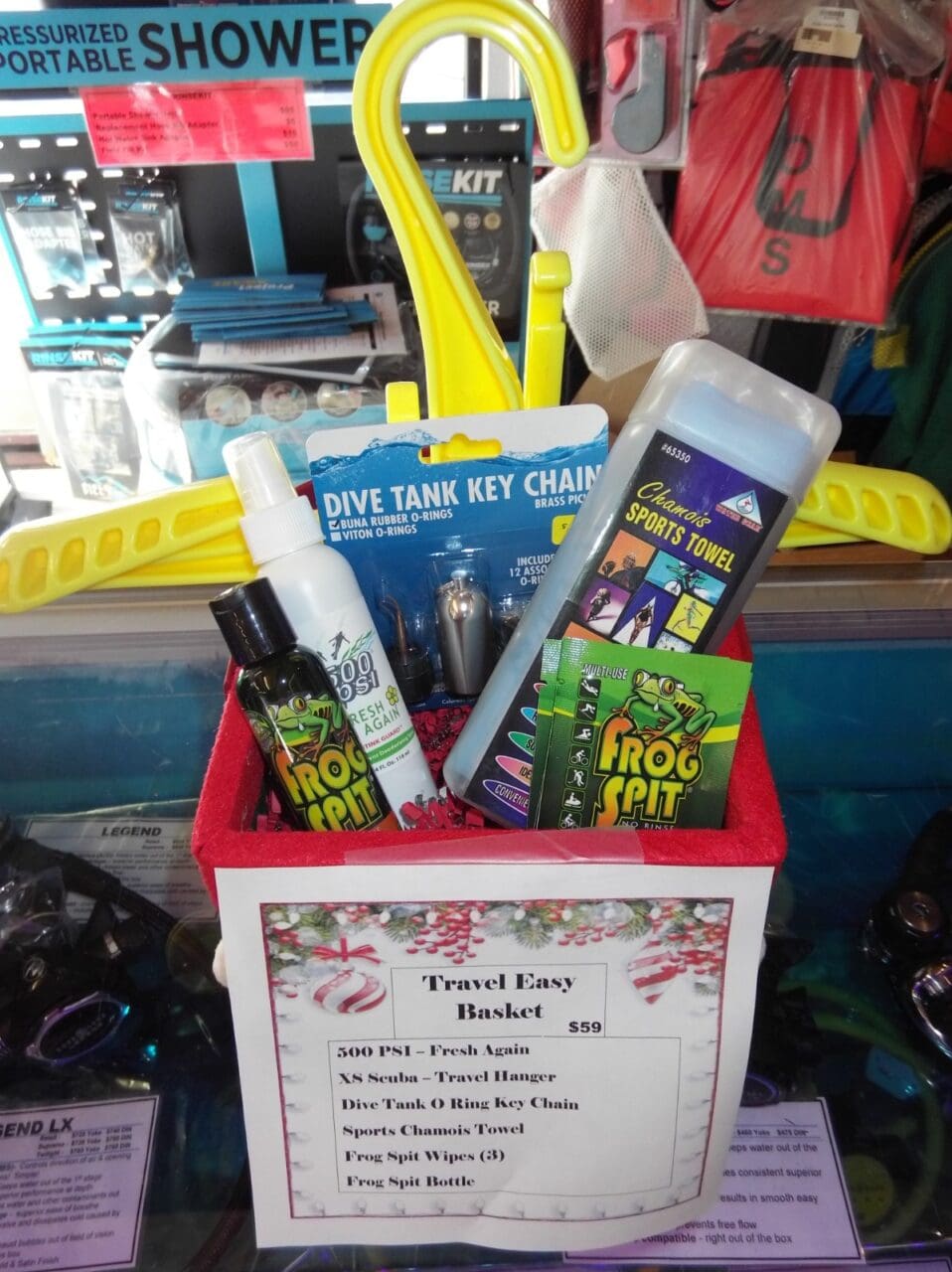 Travel Easy Basket $59
This basket is great for the traveling diver!   For only $59 you get:
500 PSI - Fresh Again (gets rid of the stank, great for booties, hoods & wetsuits)
XS Scuba Folding Travel Hanger  (hold your BCD, Regs and Mask with ease, folds up for travel)
Dive Tank keychain - O-Ring kit! (cute little keychain that contains a bunch of useful O-Rings & pick)
Sports Chamois Towel (this towel rocks, I love mine! dry off, wring it out, dry off some more!)
Frog Spit Wipes (3)   (Frog Spit is an awesome mask-defog that can be used in other sports as well!)
Frog Spit Bottle (use to refresh the wipes or on it's own)
Gift Basket & Wrapping Included!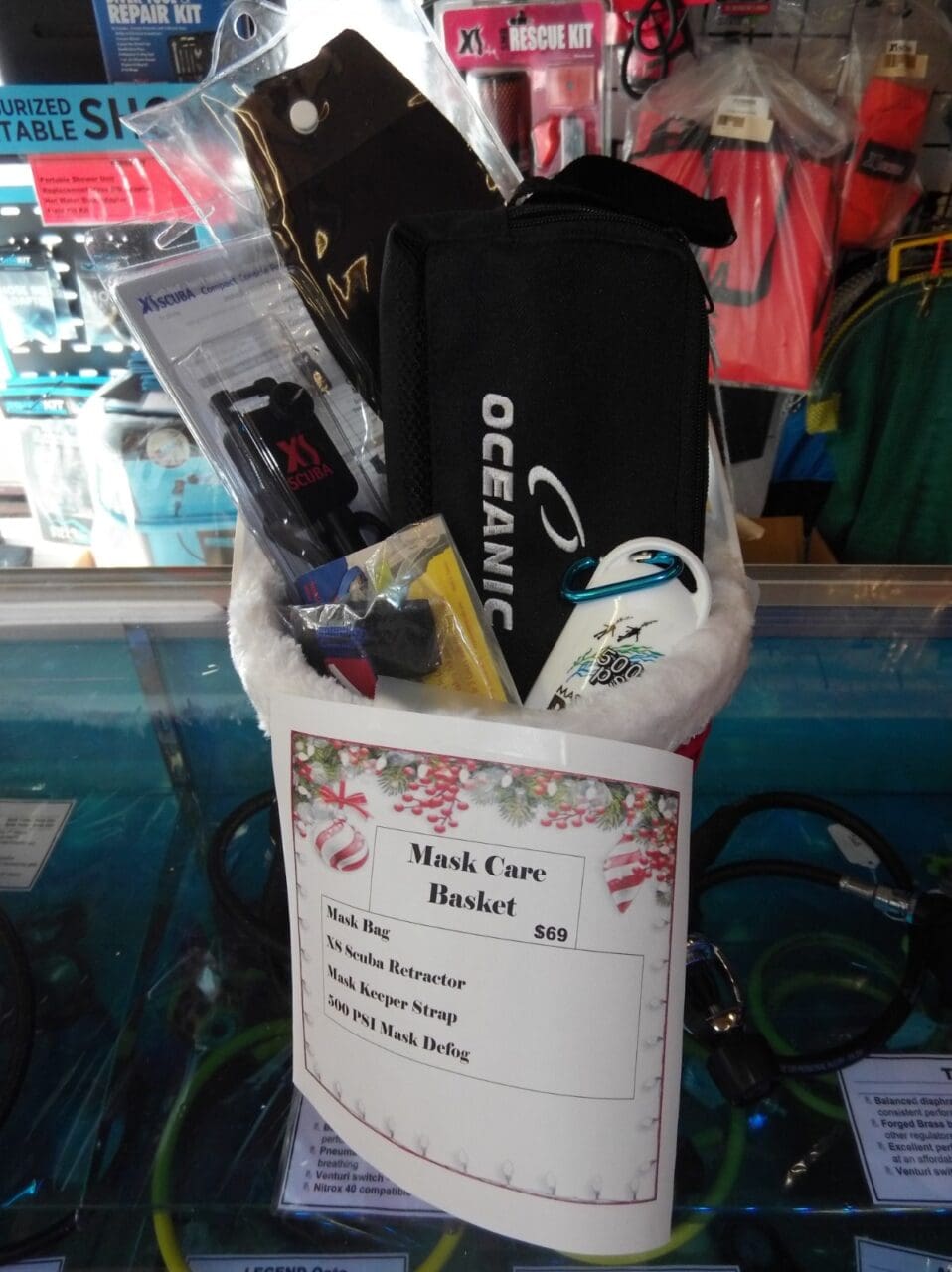 Mask Care Basket $69
The Mask Care Basket is a nice little gift to help you take good care of your mask and keep it nice and comfortable as well!
Includes:
Oceanic Mask Bag
Mask Keeper Strap (attaches to your BCD so you can hang your mask on you when not in use or to/from site)
500 PSI Mask Defog Gel  (Excellent gel type mask defog)
XS Scuba Comfy Mask Wrap ( wraps around your mask strap and makes your mask stay put and extra comfy)
XS Scuba re-tractor ( Not really mask related, but super useful)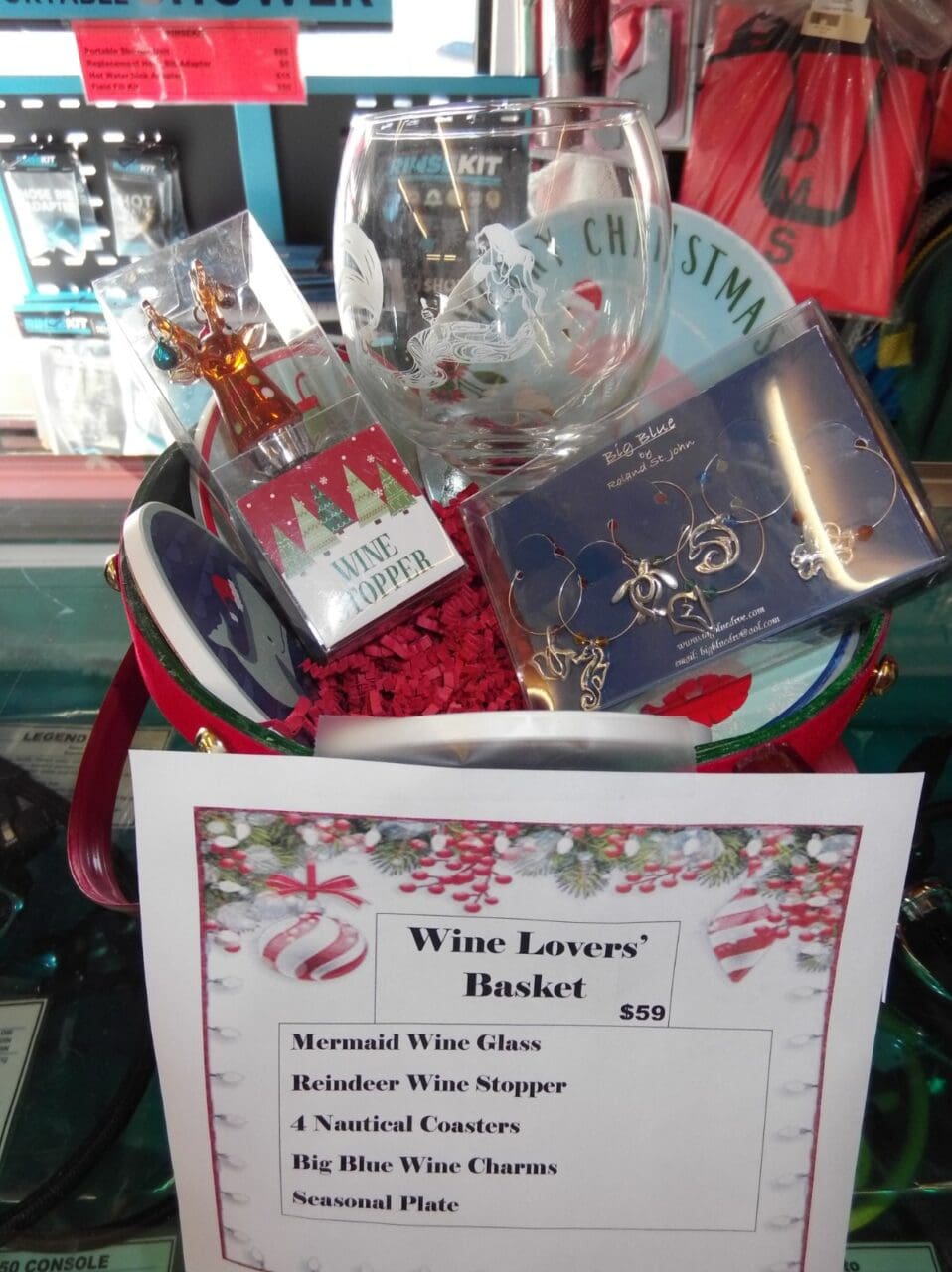 Wine Lover Basket $59
Got a Wine Lover in your life that loves the underwater world?  Well, here's a great basket for them!
Mermaid Etched Wine Glass (sandblasted!)
Reindeer Wine Bottle Stopper (for those rare types that don't finish a bottle in one sitting)
4 Nautical Coasters
Big Blue Wine Glass Charms (6 charms to place on your glass stems)
Seasonal Plate (For the cheese of course!)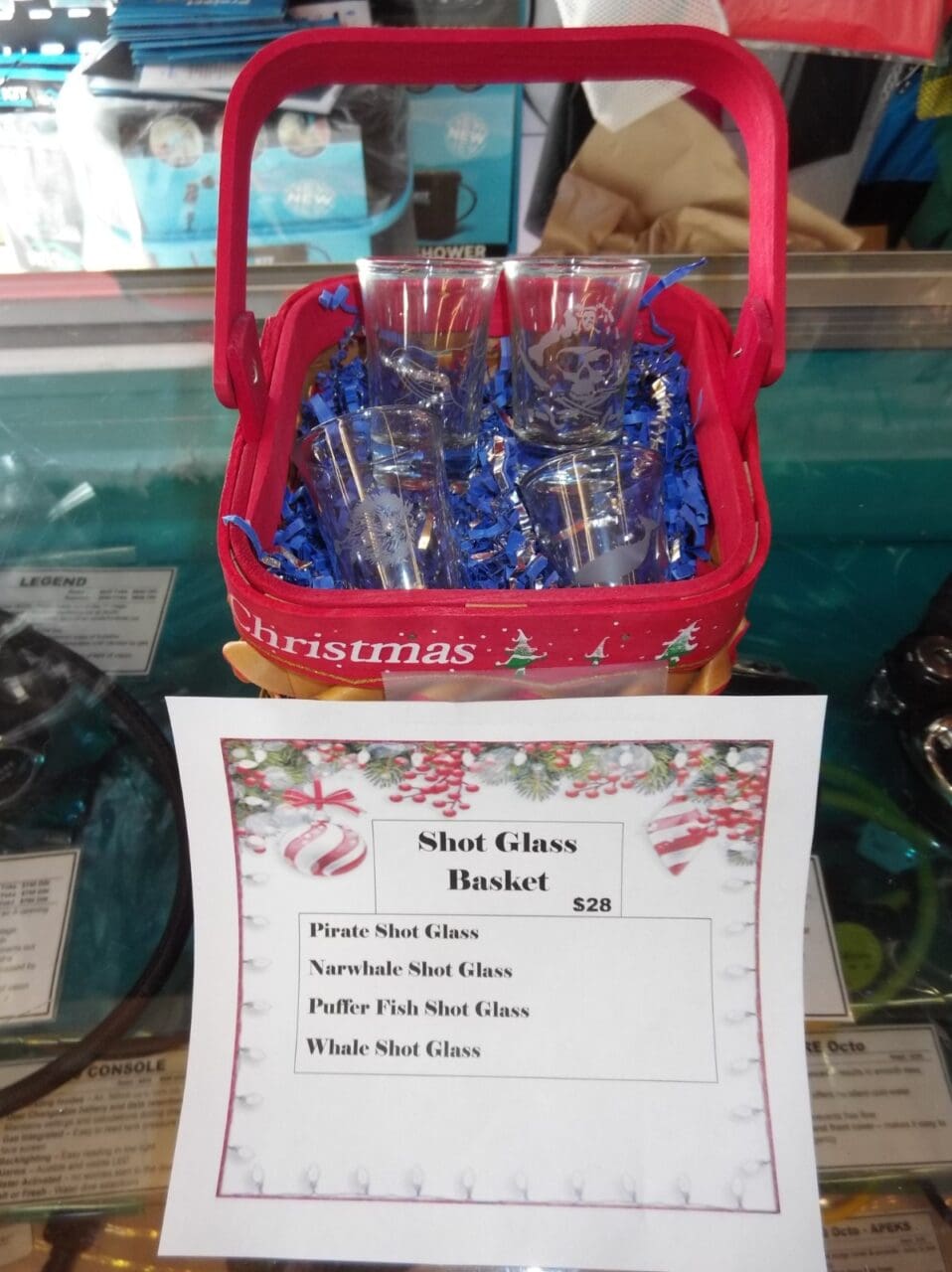 Shot Glass Basket $28
We've all got that one friend that needs this..... 🙂
4 Eteched Shot Glasses (sandblasted!)
Pirate Flag
Narwhale
Puffer Fish
Whale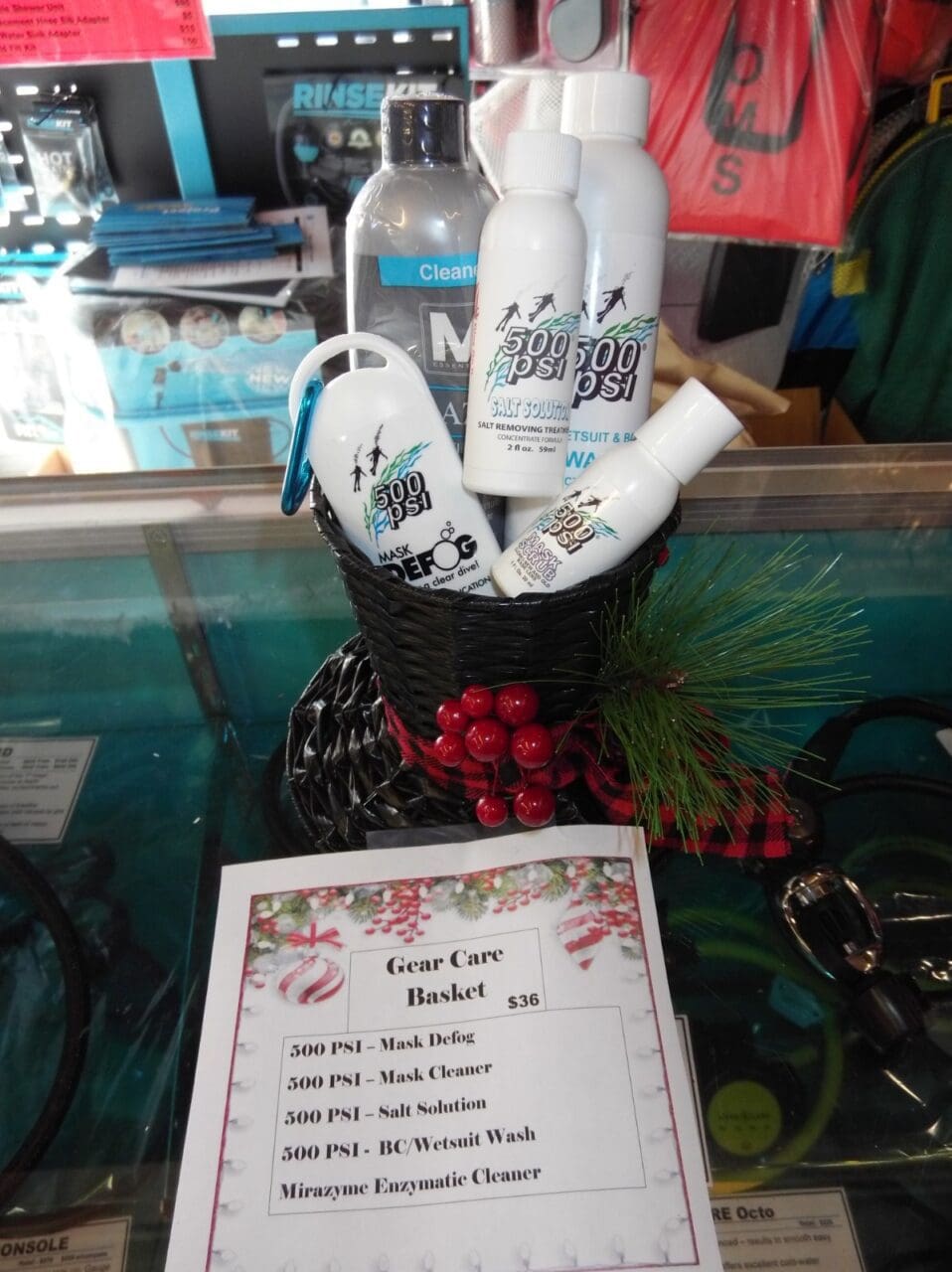 Gear Care Basket $36
This basket comes with an assortment of excellent gear-care items
Mask Defog (gel)
Mask Cleaner (also great for cleaning slates)
Salt Solution (no, not salty, but gets rid of salt deposits on your gear)
BC/Wetsuit Wash (great shampoo for cleaning up your gear!)
Mirazyme Cleaner (all-natural stink remover)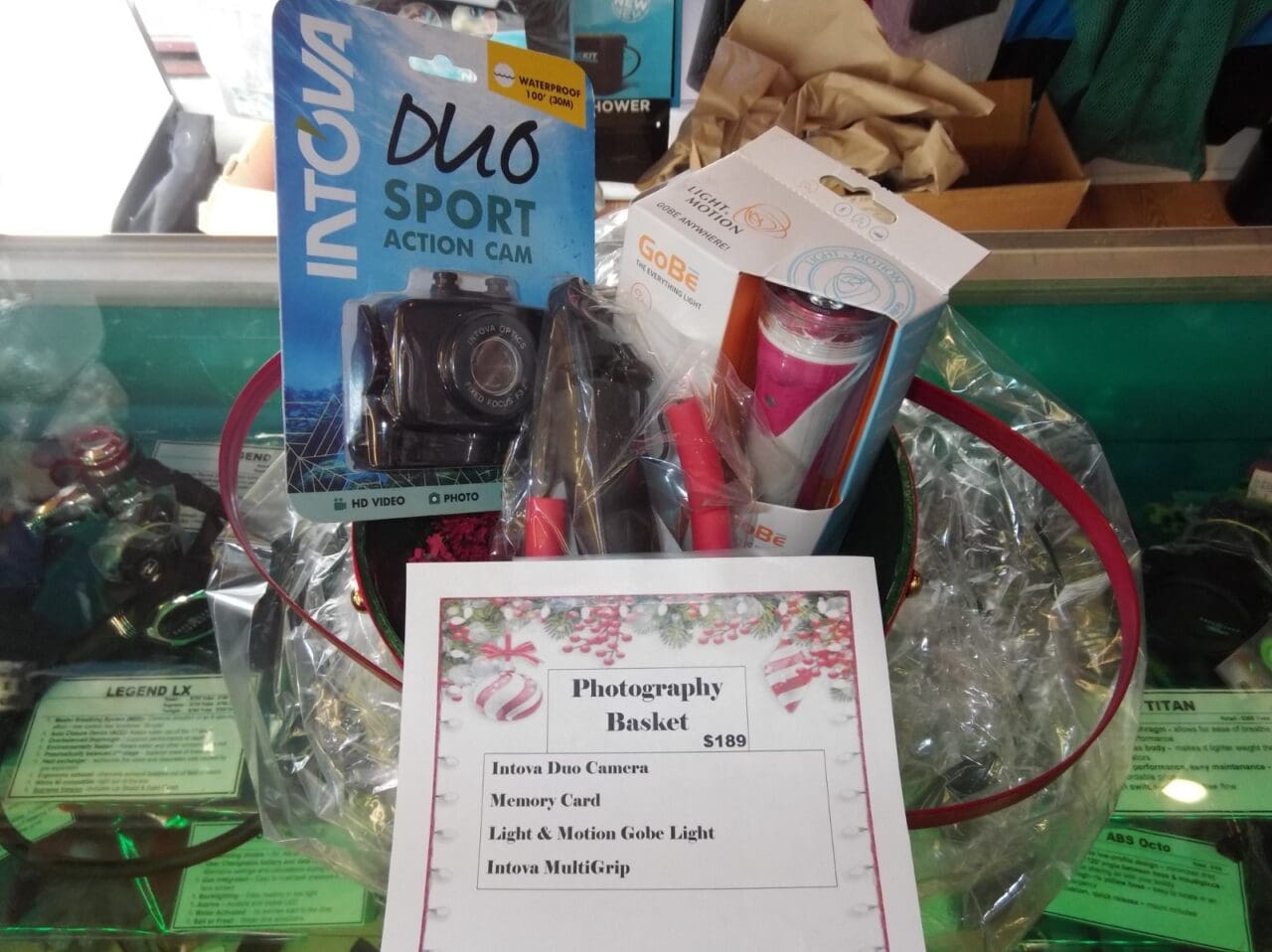 Photography Basket $189
Got a budding underwater Photographer or Videographer in your life?  Here's a great little entry-level kit for them!
Intova Duo Camera (good to 100' deep, takes stills & video pics)
8GB Memory Card 
Intova Multigrip holder (useful to hold the camera)
Light & Motion Gobe  (high end light to help light the scene! also one of the best underwater lights for night diving)