As mandated by Rhode Island Governor Raimondo in response to attempting to contain the COVID-19 outbreak; Dive On It Scuba will be closed for in-store transactions beginning at the close of business on Sunday March 29th.
As alternative, we'll have the online shop, pickup and eLearning options available for you!  We'll be open by appointment only during our normal business hours.  Customers will be able to pickup orders, drop off and pickup cylinders for fills or visual inspections, drop-off or pickup service items during our regular business hours by appointment only.
If we happen to be there, please do not enter the store, the doors will be locked.  If you need to contact us, call the shop phone at 401-333-0002 or message us on Facebook or send an email.
When you arrive for pickup or drop off, please call when you're on your way, and when you arrive.   You'll be given instructions at that time.
We  know many of you are getting stir-crazy about getting out and diving and it's understandable.  But please stay safe.  Plus, the water temp in Jamestown this weekend was still under 40deg, and the viz was trash.  So you're not missing much. 🙂
If you're looking to do something Scuba related while at home, PADI's e-Learning platform is still available, as well as many seminars that we post on our Dive On It Scuba Divers Page on Facebook.  Local dive clubs and shops we work with in the area are providing webinars to help pass the time. Whenever we hear of one, we post it there.
We're also looking to do a few webinars and distance learning classes.  Send us an email or leave a FB message for topics that may interest you.
Take care of your yourself and your loved ones.  Check in with them often, be kind to each other, and we'll get through this together!
Stay well!
Allison & Chris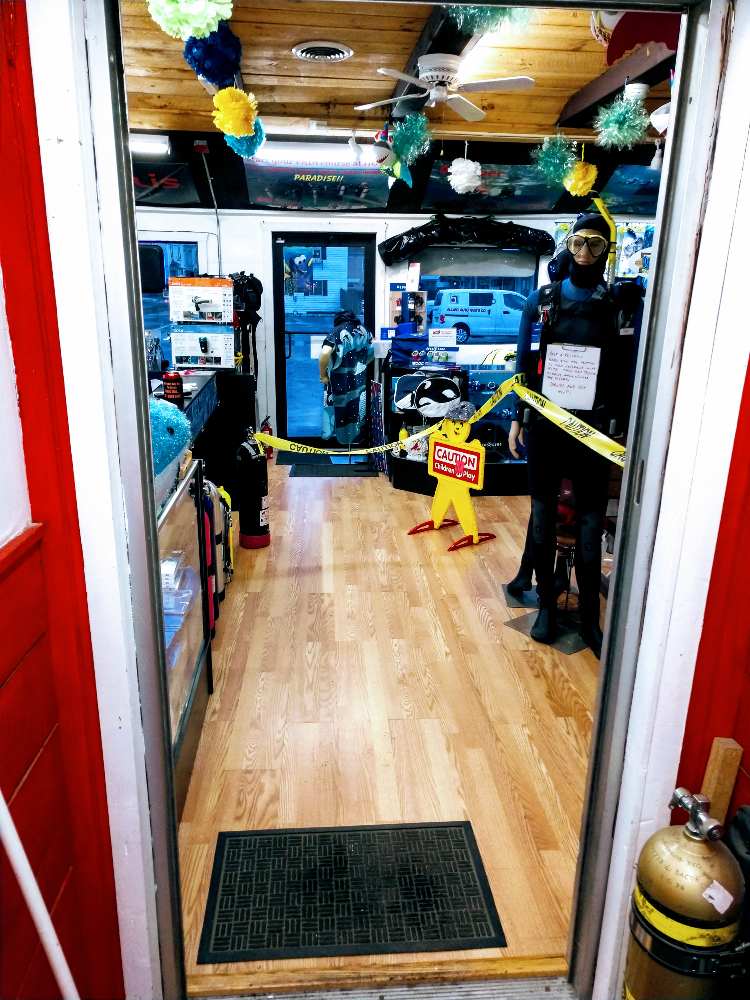 If you for some reason enter the shop at this time, you must stay within the marked area.  Generally speaking, we'll only have folks come in to settle up at the register.  Otherwise we'll likely take care of drop off & delivery items outside.